Produits Phoenicia
2605 Pitfield St-Laurent, H4S 1T2 Canada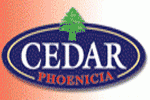 ***Etablie en 1989, PRODUITS PHOENICIA a débuté ses opérations avec un modeste entrepôt de 5,000 pi.ca. En 1994, c'était l'incorporation, suivie en 1998 par l'acquisition de la marque CEDAR, connue pour être la marque pionnière dans la commercialisation des produits alimentaires du Moyen-Orient, au Canada et aux Etats-Unis.
Depuis, PRODUITS PHOENICIA a pris de l'expansion pour couvrir toute l'Amérique du Nord.
Aujourd'hui, l'entreprise occupe des locaux de 165,000 pi.ca à Montréal, et de 70,000 pi.ca à Toronto; le reste du Canada et le marché américain sont desservis par l'intermédiaire de distributeurs locaux bien choisis.
La gamme de produits CEDAR continue toujours son expansion pour inclure une multitude de produits. La fidélité du consommateur est de plus en plus grande, et ce grâce à la qualité des produits et à un réseau de distribution bien établi qui en assure la disponibilité à peu près partout au Canada.
Ainsi, nous pouvons offrir à notre clientèle une sélection de marques bien connues parmi les plus prestigieuses au Moyen-Orient, et que nous représentons sur une base exclusive, telles que : Al-Kanater, Al-Rabih, Best, Daoud, Montana, Turtamek, Ulker, etc…
La stratégie de notre programme de mise en marché ainsi que notre philosophie de commercialisation sont toujours axées sur le choix du consommateur.
***Established in 1989, PHOENICIA PRODUCTS started its operations in a modest 5,000 square feet warehousing facility. It was incorporated in1994, followed in 1998 by the acquisition of the CEDAR brand, known to be the pioneer brand of the Middle Eastern foods in Canada and the United States.
PHOENICIA PRODUCTS has continued to expand ever since; it now covers all of North America.
Today, the company enjoys a 165,000 sq.ft warehouse in Montreal, and a 70,000 sq.ft one in Toronto; the rest of Canada and the U.S market are serviced through a network of selected local distributors.
CEDAR product line continues to expand by adding numerous new items. Consumer loyalty increases by the day due to the quality of the products and to their availability nationwide in through a well-established distribution network.
We can therefore offer to our clients a selection of well-known brands that we represent on an exclusive basis, and which are amongst the most prestigious ones in the Middle-East, such as: Al-Kanater, Al-Rabih, Best, Daoud, Montana, Turtamek, Ulker, etc…
Both our marketing strategy and business philosophy are always consumer-focused.